Beauty
Phylia de M.: Week 1 & 2
I am almost to my second week of using the Phylia de M 3 Step Kit so I though I would make an attempt to update my progress with it 1-2 times a month.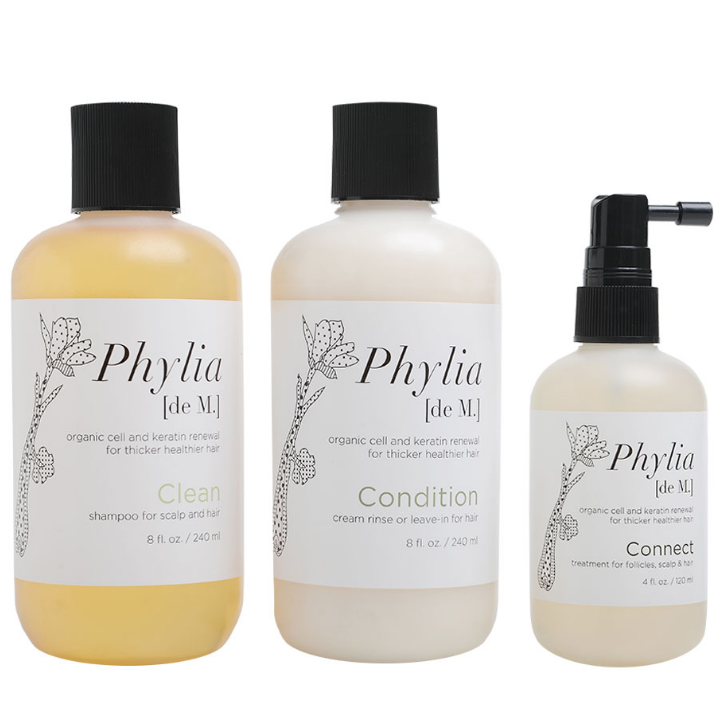 First off: I am still completely in love with the scent. It has the freshest, greenest sort of aroma I've ever experienced from a hair care line.
Something to consider, is that the shampoo (Clean) is not super lathery. Also, since the bottle is only 8 floz, I thought I would try to use it sparingly…
Well. Let's just say, my hair is so dry, that it kind of sucks up all of the shampoo wherever I apply it (usually the top of my head), so I have to end up using a good sized amount of it with each washing.
With Phylia de M, you are supposed to really work Clean into the roots of your hair, and use it to massage your scalp, helping the shampoo release its nutrients down into the follicles. For this reason as well, I feel as though if I were to use a sparse amount I might be just wasting the product, rather than really getting it down into the roots where it can do its magic.
It does take some work to really get it through my fairly long, mixture of fine and coarse hair – but to me, so far it has been worth the extra effort.
Now, the second and third times I really scrubbed this down into my scalp, I seemed to have loosened a rather large amount of hairs, which had me quite alarmed; I have subsequently been noticing less hairs falling out as of recent, though.
I am not entirely sure what the cause of this was, but I am relieved that it seems to now be going in the opposite direction.
And Condition, the conditioner – oh, this is by far has the most amazing scent out of all three products. It will make your hair feel so incredibly soft, and touchable – I can't get enough of it! Nothing but good things to say here.
I highly recommend slathering it on from the roots—and especially the ends of your hair—quite generously. If you have a shower cap on hand, even better! Twist your hair up while the conditioner is soaking in, pull on the shower cap, and finish the remainder of your shower like so. This will allow the conditioner to penetrate into your hair deeper, and you will get more out of the product.
I also slather it in my hair before I go to bed, overnight as a deep conditioning/leave-in conditioning treatment, because (as mentioned above) my hair is very dry, and this really does do wonders for it.
I cannot comment on whether Connect has yet to make any improvements on my hair texture, or on promoting new and accelerated growth, but like all good things in life, that will take patience. And of course, like the other products – it smells quite lovely.
I like to mist it on my hair and into my roots throughout the day to give it a bit of moisture.
A few other ways I use my Phylia de M 3 Step Kit:
I use Clean to cleanse the mascara off my lashes, and also on my eyebrows.
I have mixed Condition with distilled water in a spray bottle, to create my own spray-in conditioner.
I have used a Q-tip to apply Connect to my lashes before bed, as a lash repair/growth serum.
I have added Connect to my Dior Diorshow mascara to adjust the formula to my liking (also, the added benefit of follicle repair!).
According to the Phylia de M pamphlet and website, Clean can also be rubbed into the nail beds/cuticle area to repair damaged nerves. While I have not yet tried this particular use, I intend on doing so to see what it does for my nail strength.
I love multi-functional products!
Would I suggest this to a friend or family member? Absolutely. It cleans my hair and conditions it nicely, and the worst it can possibly do it improve your scalp and hair condition (I used this theory to convince myself, anyway).
Hope this update has been helpful for any of you who might be on the fence about trying out Phylia de M!
Until next time, stay beautiful!
SaveSave
9 Comments to "Phylia de M.: Week 1 & 2"