Fashion
Get The Look | HERVÉ LÉGER Corozo Blue Color Block Bandage Dress
I'm OBSESSED with Hervé Léger's bandage dresses (I'm obsessed with bandage dresses in general, to be honest). More than almost any other fashion trend that I'm on board with, I'm on board with the bandage dress.
Why, you might ask? Well, if you're asking this question, you've clearly never tried on the amazing, magical wonder that is the bandage dress.
They're universally flattering on almost any body type. THAT'S a pretty big claim, but trust me – if you find the right bandage dress, it will smooth over and lift in all the right places, and make you wonder why you'd waited so long to slip (or squeeze?) one on!
If you're a girl with a bigger bust, bandage dresses are your new BFF. Unlike a lot of other designs, a good formfitting bandage dress has the ability to keep your ample bosom up, and in place all day (or night)!
As a woman who likes to skip the bra as often as possible, I've tested and tried this. For reference, I'm a 26FF/28F bra size. That's the cup-size-equivalent of a 32D, but with much less ribcage for support!
Now — not to lose track of where I was going — Hervé Léger is pretty expensive for most of us, but luckily, there are places like THE OUTNET that sell the previous seasons' items at a fraction of the original price. I would highly suggest you stop by and take a look if you're in the market for authentic designer goods and couture.
But, for those that aren't looking to give up an arm or a leg for a night out on the town, I have for you some options!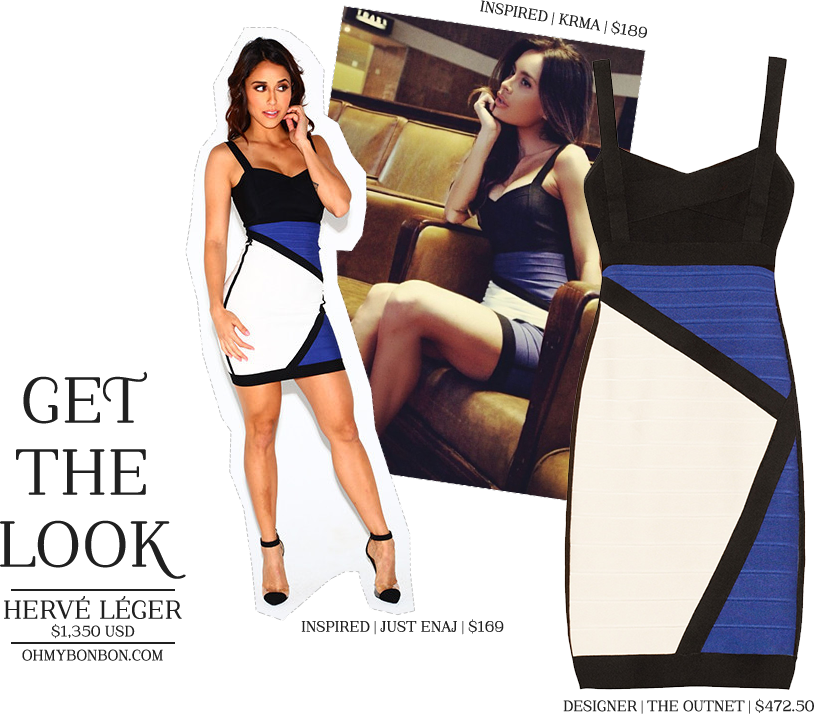 Just Enaj | The Tulip Bandage Dress | $169
KRMA | Made For LA Tulum Bandage Dress | $189
THE OUTNET | HERVÉ LÉGER Corozo Blue Color-Block Bandage Dress | $472.50
I've recently picked up a few different bandage dresses for my summer date nights (my husband and I celebrate our monthly wedding anniversaries, don't make fun), so I am looking forward to posting photos of them soon!
What do you beauties think? Are you on the bandage dress bandwagon? Tell me in the comments! ♥
xo
Ashley
3 Comments to "Get The Look | HERVÉ LÉGER Corozo Blue Color Block Bandage Dress"