Fashion
It's GILT, Not Guilt! Summer Accessory Must-Haves
Thank goodness my husband doesn't know how much I love Gilt, or he'd probably ban me from it!
What's Gilt, you ask? Gilt is your one-stop-shop for all things luxury at a fraction of the original price. It's basically like shopping all of your favorite sample sales in one place, 24/7!
If you haven't signed up for Gilt yet, I don't know how you've survived this long. So hurry, get on board, and see what all the fuss is about (if it becomes a dangerous, compulsive addiction, it's not my fault. Approach at your own risk. You've been warned)!
I've purchased all of my white bedding from Gilt (Frette! I love Frette. Did you know Frette designed all of the linens and bedding for the Titanic?), an Alexander Comforts Light Fill Comforter that will keep us nice and warm in the winter, and some fabulous Luigi Bormioli pilsners, with the idea in mind of using them to recreate an amazing beverage we had at the Four Seasons Bora Bora (if you've been there, it's called the Bora Bora Vice. It's nonalcoholic, and it was one of the most delicious drinks I've ever had the pleasure of tasting).
But, here's where it gets a little more fun, and relevant—
Back in December when my husband and I got engaged, his sister made me a gift of some lovely Prada sunglasses. Somehow, I know not how, I believe they wound up getting packed up in her luggage when she left to go back home after the holidays, because though I searched high and low, they were nowhere to be found!
I haven't really found a pair of glasses that have looked quite as well on my face as those did, or that I fell quite as in love with. I've had a couple 5 minute love affairs with Bvlgari and Tom Ford sunglasses while out shopping at Saks' and Neiman Marcus, but for some reason, I just couldn't totally commit to them. But, of course, I was recently tempted by my Gilt-y (ha!) findings, and snatched up a lovely whimsical pair by Valentino! My eyes will be happy, seeing as they've been without any real form of sun protection since December…!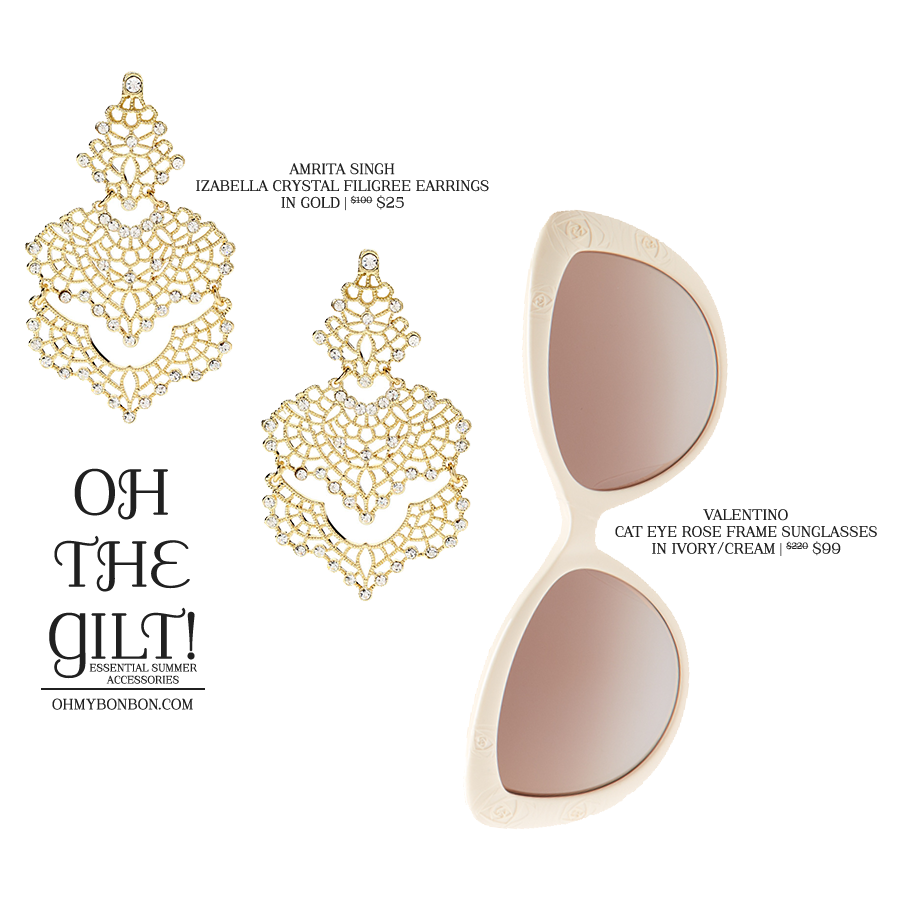 VALENTINO | Cat Eye Rose Frame Sunglasses in Ivory/Cream | $99
AMRITA SINGH | Izabella Crystal Filigree Earrings in Gold | $25
And of course, Amrita Singh is a no brainer. Her exotic yet elegant designs pair well with just about anything, and I can't resist gold and sparkles. These two pieces alone will complete just about every look in my summer wardrobe with their neutral simplicity.
Investing in accessories is always a good idea in my book!
Questions, comments? Leave 'em below!
xo
Ashley
1 Comment to "It's GILT, Not Guilt! Summer Accessory Must-Haves"