My Mother is a lot of fun to shop for, because anytime someone asks her, 'So, Mom… what would you like this year?' she consistently replies with "Oh, you don't need to get me anything" and my personal favorite, growing up: "You know what you could give me? You could help clean! That would be what I would love the most!"
Ah, so unconventional.
Naturally she always got something that came in a box, instead. You're welcome, Mom! 💕
But, this is the second year that I now have two mothers! My mother-in-law is much more forthcoming with what she's wanting in the gift department, and I must say, thank goodness, because I don't know how I'd manage to sort things out if they were both as hard to pin down as my own!
Usually my siblings and I would get my mother a gift card, or a set of beauty products and devices (hello Clarisonic Mia2!), but she is so low maintenance when it comes to product routines (probably why her skin is so nice) that I've had to get more creative over the years.
So, THIS year, my mother-in-law made it known to my husband and I that she wanted a long silk robe, after explaining how difficult they are to find. OK! Challenge accepted. And that gave me the idea to buy one of my most beloved robes for my own mother.
And this is what happened:
Who knew robes could be such a fantastic gift? It's currently the only kind of present I've given this year! Yeah, my husband got one too…
And, for last-minute (or well planned) shopping, AHAlife has teamed up with Vogue to currently offer you 25% off on your tasteful online-shopping excursion!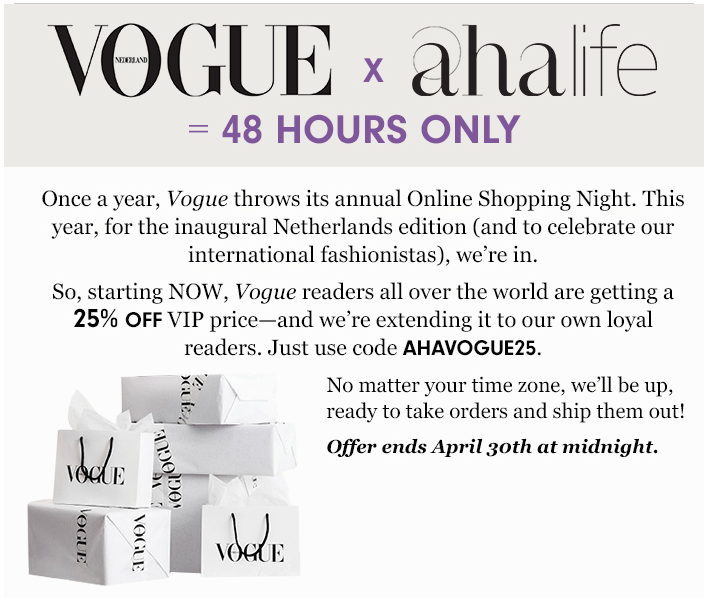 Enjoy, and I hope you all have a beautiful Mother's Day!
xo
Ashley